Zimbabwean President Robert Mugabe has announced his resignation with immediate effect.
Wild celebrations broke out as a resignation letter was read out in the country's parliament, where impeachment proceedings against the ruler had begun.
Mr Mugabe said he had chosen to step down "to ensure a smooth, peaceful and non-violent transfer of power", adding that he made the decision voluntarily.
The announcement sparked jubilant scenes in Zimbabwean capital Harare, where protesters had gathered to call for the 93-year-old to be removed from office.
Paul Mangwana, a senior official from ruling party ZANU-PF, has told Sky News that exiled vice president Emmerson Mnangagwa will be sworn in as President on Wednesday.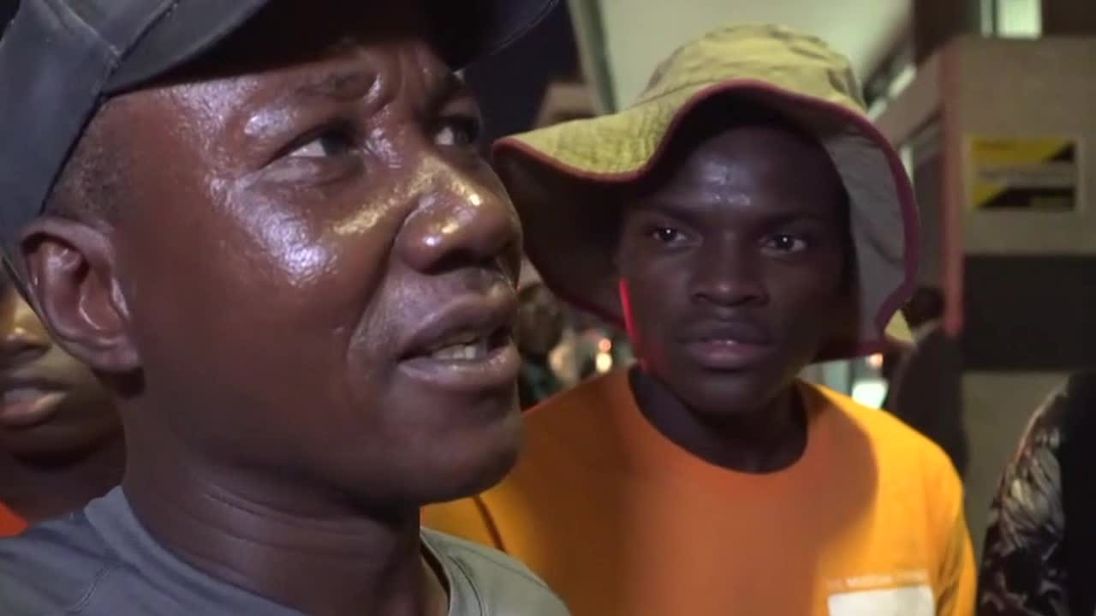 Video: 'I nearly collapsed through excitement'
"I want to congratulate the people of Zimbabwe on reaching this historic moment," Mr Mnangagwa told NewsDay.
"Together, we will ensure a peaceful transition to the consolidation of our democracy, and bring in a fresh start for all Zimbabweans and foster peace and unity."
Earlier this month, Mr Mugabe sparked the political crisis which ended his dictatorship by sacking Mr Mnangagwa – paving the way for his wife Grace to succeed him.
:: 'I have beaten Christ' – Mugabe in his own words
Military chiefs reacted by taking control of the capital, seizing the state broadcaster and placing Mr Mugabe under house arrest.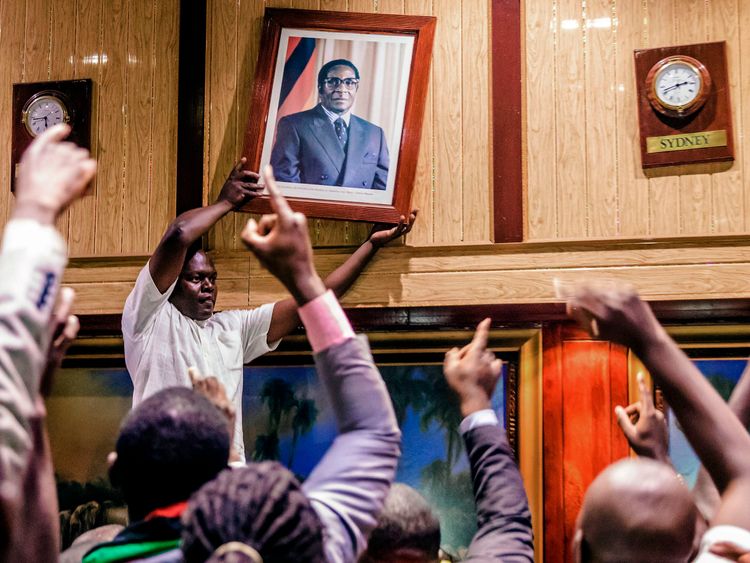 Image: Mugabe's portrait is removed from a wall in Harare's International Conference centre
The ruler initially refused to stand down and told Zimbabweans in a televised address they must "learn to forgive".
But he was forced to face impeachment proceedings amid claims he allowed his wife "to usurp constitutional power" and had been seen "sleeping in cabinet and international meetings" – bringing "horror and shame" to Zimbabweans.
Mr Mugabe had ruled Zimbabwe since 1980 and his departure leaves the Queen as the world's oldest head of state.
Under his presidency, the south African country's economy collapsed and unemployment rose to more than 90%.
:: Profile – Assassination attempts, power grabs and tyranny
Image: 1980: Mr Mugabe and then UK prime minister Margaret Thatcher meet the year Rhodesia became Zimbabwe

Image: 1979: Robert Mugabe and the Zimbabwe African People's Union (ZAPU) leader Joshua Nkomo at the Lancaster House talks that led to the end of colonial rule

Image: 1980: Mr Mugabe, then newly elected as Prime Minister of Zimbabwe, holds a press conference in his garden

Image: 1982: Mr Mugabe visited the Queen at Buckingham Palace with his first wife, Sally

Image: 1984: Mr Mugabe addressing a crowd at Harare stadium – a year after suppressing an armed rebellion in Ndebeleland

Image: 1984: He was awarded Doctor Honoris Causa at the University of Harare, an institution he would later be chancellor of

Image: 1986: Mr Mugabe leaves the scene of the African National Congress (ANC) offices that were bombed days earlier by a South African commando

Image: 1986: Cuban president Fidel Castro (C) shares a laugh with Zimbabwean president Canaan Banana (R) and then prime minister Mr Mugabe (L)

Image: 1988: Mr Mugabe speaks to the press at the United Nations, about the Africa Prize for Leadership

Image: 1993: Chinese president Jiang Zemin (L) welcomes Mr Mugabe (R) with a Chinese honour guard during a welcoming ceremony outside the Great Hall of the People in Beijing

Image: 1996: Robert and Grace Mugabe married in a ceremony attended by 6,000 guests

Image: The couple became known for their outfits. She was nicknamed 'First Shopper' and 'Gucci Grace'

Image: 2005: Mr Mugabe was sometimes seen asleep in public in later years, such as here at an African Union meeting, but friends insisted he remained sharp of mind

Image: Mr Mugabe addresses a rally in Sanyati, November 2005, on the eve of the senatorial elections

Image: 2017: With his time in office drawing to a close, Mr Mugabe was seen negotiating with generals. Pic: Herald newspaper
The 93-year-old has been accused of a range of human rights abuses, including denying food aid to areas supporting the opposition.
He has also faced repeated accusations of election vote-rigging and intimidation – in 2008 a violent campaign against supporters of opposition leader Morgan Tsvangirai saw scores killed and thousands displaced.
:: The thrill of being swept up in Zimbabwe's joy
Chris Mutsvangwa, leader of Zimbabwe's war veterans group, described Mr Mugabe's resignation as "the end of a very painful and sad chapter in the history of a young nation, in which a dictator, as he became old, surrendered his court to a gang of thieves around his wife".
Meanwhile, British Prime Minister Theresa May said it gave Zimbabwe the chance to "forge a new path free of the oppression that characterised his rule".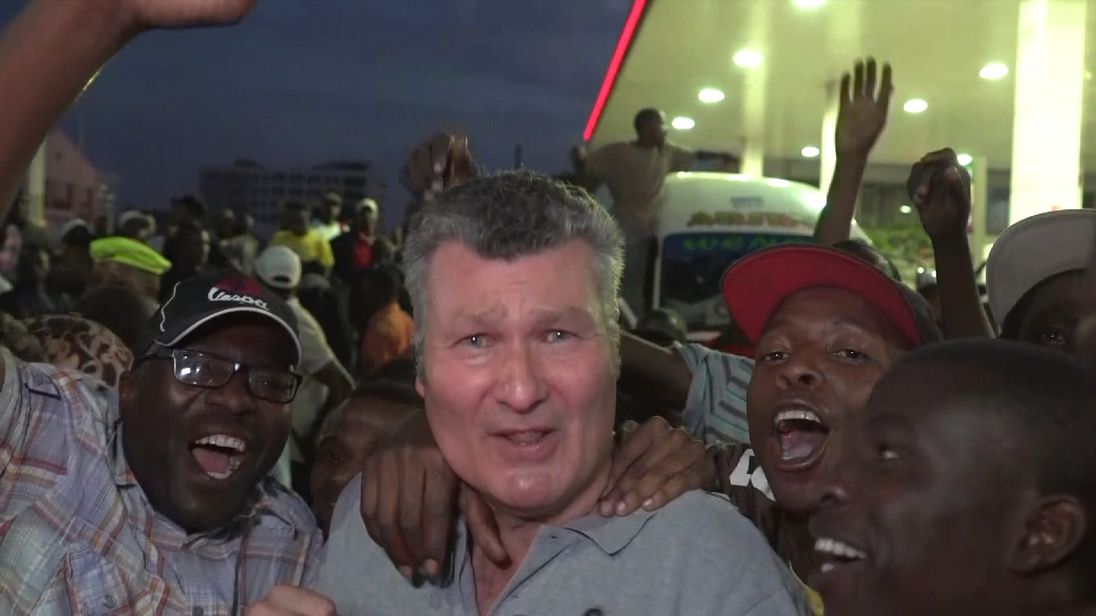 Video: Sky reporter mobbed as Harare celebrates
:: What next for Zimbabwe's crippled economy?
She said: "In recent days we have seen the desire of the Zimbabwean people for free and fair elections and the opportunity to rebuild the country's economy under a legitimate government.
"As Zimbabwe's oldest friend we will do all we can to support this, working with our international and regional partners to help the country achieve the brighter future it so deserves."